Building a video marketing strategy in 5 steps
Create a video marketing strategy that makes a difference for your company. 
11 minute read
Need to create videos for your marketing campaigns? Look no further. SmartCuts has got you all covered. For businesses today, making online video marketing a priority is key. It's also important to note that we know how costly and complex this type of campaign can be if you are not an expert in the field. So let's get into it!
Video Marketing Strategies
1. What is a video marketing strategy?
2. Advantages of including video in your content strategy
3. Video marketing strategy design: the steps
4. Implementation of the video marketing strategy
5. Tips for improving your video marketing
What is a video marketing strategy?
A video marketing strategy is the set of planned actions to get from point A (current situation) to point B (desired situation or objectives) using audiovisual language in different digital channels as tools to achieve your goals.

It is an important part of your content strategy and, in general, of the marketing and communication strategy.
Why is video marketing so important? The goal of video marketing is to turn your viewers into customers. What can do that? Well, make someone feel like a human as they watch your video. Words, photos and even podcasts don't have the same effect as videos. Part of that is because of facial dynamics (movement of human facial features). In other terms, its bringing emotion to your brand.

Staying on brand, you can take a look at this video on video marketing to learn more details about it and its importance for your brand.
The Advantages of including video in your content strategy 
Easy to consume. It is easier and more fun to watch a video than to consume only text.
Increases engagement. It is a format that arouses emotions and connects with people.
It generates trust. We trust more in what we can see and hear.
It favors SEO. For example, it increases the permanence rate on a website.
Facilitates sales. It helps to show products and/or services in a more graphic, subtle and fun way.
It humanizes the brand. It allows us to put a face to our company and tell stories.
It adds value. We can use it to provide relevant information (such as FAQs) or to educate (such as tutorials).
Increases visibility. Videos are more likely to go viral than other types of content.
All in all, to take advantage of all these benefits, it is very useful to consider a video marketing strategy.
Video marketing strategy design: the 5 steps
This strategy adds value to a comprehensive content plan.

Some of the tasks we need to carry out, such as defining the target market, are common to all content creation.

In the design stage of the video marketing strategy we will follow these steps:
Target Market.
Objectives.
Types of video.
Platforms.
Action plan.
Defining your target market
Creating the avatar or profile of your ideal client is the starting point in any marketing and/or communication plan and in your video marketing strategy it is also the starting point.

To generate engagement, you need to know who your audiovisual content is aimed at. Conduct market research, analyze your past content and assess the competition. These are ways you might identify your target market.
Be clear on your objectives
What do we want to achieve with them?

We could aim to increase engagement or capture more leads, however, we must set our objectives in such a way that they are SMART.

This word is an acronym that stands for:

Specific: in order to meet the objectives set, they must be specific.

Measurable: you will know whether or not you have fulfilled your objectives as long as they can be measured.

Achievable: forget objectives that are so ambitious that they cannot be achieved.

Relevant to the brand: each objective must be aligned with the essence of the company.

Time-bound: setting a deadline to meet your objectives helps you not to procrastinate.
The type of video
The type and format you choose will depend on factors such as the resources available, the subject matter, the chosen platform and the target market.

For example, certain businesses may benefit from using a time-lapse video. It is the perfect medium to showcase the passage of time. They are immersive, beautiful, and timeless making them a perfect tool to improve your brand image. Take a look at this video of the NFL's Largest Stadium being built.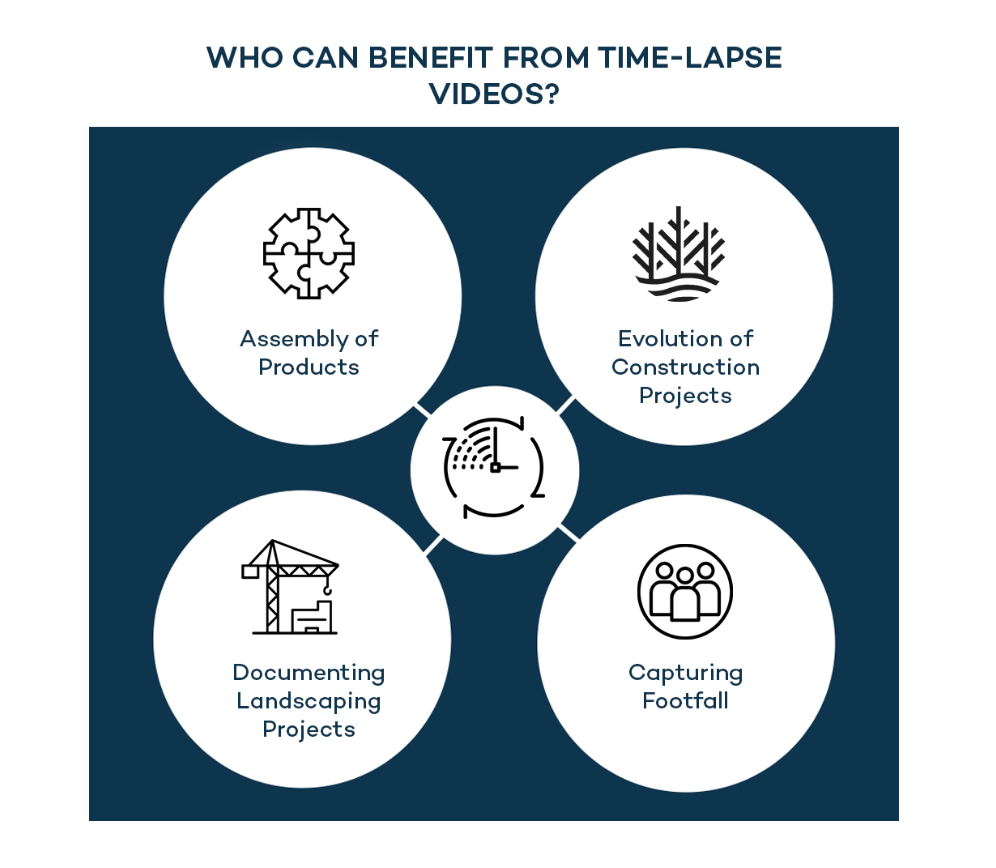 Choosing your platforms
Where will you publish your audiovisual content?

The platform chosen to publish largely determines the duration, format and even the topics you choose.

Examples of platforms for your video marketing strategy include:

IGTV, the Instagram channel, is created to post vertical video. If your video marketing strategy includes it, you are going to have to record with the phone in that position.
For stories, you should create short, punchy pieces.
For the web, you can create more explanatory pieces.
Lives tend to be more casual.
On YouTube, tutorials ("how to") and tips work very well.

Before selecting the platform you should ask yourselves: which platform will my target market be on?
Your action plan 
An action plan tells you what actions related to this type of content you will carry out, what resources you will need and who will be involved.

It also allows you to visualize how far in advance you need to produce the audiovisual material.

Video can be present as part of your content calendar, in advertising or expectation campaigns, launches, etcetera.
Implementation of the video marketing strategy
The key to focus on here, with implementation, is optimizing the content that you upload and publish.

Publication

Videos need channels to see the light.

So you publish them on the platforms that we previously defined in our video marketing strategy.

When uploading them you include the necessary data for Google and these platforms to understand what they are about so they can have more visibility.

It is essential to have previously used keyword research to include the appropriate information.

These are the basic elements you should add when uploading your videos to YouTube: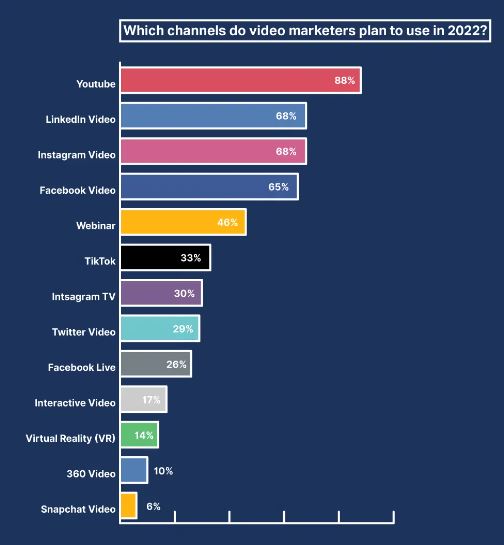 The title: It is one of the main positioning factors.It must contain the main keyword, and it is also important that it is short and eye-catching.
The description: This text should help the user understand what the content is about. It should contain the main keyword and related words.
The thumbnail image: This is the small cover that you have the option of placing on your content. It affects the number of clicks the video receives and, therefore, the number of views. It must be eye-catching.
Include the video in a YouTube playlist: SEO aspects will help to increase the chances of organic visits to our video. Although they are very important, they cannot be our only visibility strategy.
Tips for improving your video marketing 
Here are some final tips for improving your video marketing strategy:
Reuse your content: Making videos requires effort. You can maximize resources if you reuse material intelligently. Maybe you could post a behind-the-scenes of making one of your videos.
Be consistent: Try and publish video content constantly so that your marketing strategy is optimized. Have a schedule to post your content.
Include call to actions: A call to action encourages viewers to do something after the video. People tend to act when asked to do so. Perhaps you ask them to visit a website page.
Give us a call or reach out now: