Corporate Video Production can be Creative – Here's How
Think beyond suits & ties, and strive for imaginative success in the corporate videos you produce
You may be thinking, "Well, if I'm not to use a typical office background setting, what else can I do if I still want to come across as professional?" Don't worry, we've got you covered. In today's blog post, we're going to be talking about everything corporate video, but not in your traditional way. If you think you want to produce more creative corporate videos, then you've come to the right place.
Try having a purely honest conversation on camera? That's what Netflix did a couple of years ago when discussing their unique and more freeing approach to work culture. The video feels as if there's complete transparency in the conversations. It feels natural. With varying people and camera angles, there's a continuous intrigue to keep watching the corporate video.
Whilst some people may still argue this corporate video example exists in the norm, it is, nontheless grounded in creativity.

You may be used to suits, professional camera angles, properly put-together videos, with seamless transitions. Whilst that type of professionalism does work, and has worked for videos like the Netflix one, for other industries and products, this type of thing just doesn't cut it. So, let's find out more about how to make corporate videos more fun and exciting. Quick note, just because your videos are creative, doesn't mean they aren't 'properly put-together'. Find out why now.
Creative Corporate Videos
1. What is a Corporate Video?
2. The Importance of Corporate Videos for Your Brand
3. Classic Types of Corporate Videos
4. How you can make your Corporate Video Creative
5. Examples we love at SmartCuts
6. Final Thoughts
What is a Corporate Video?
With the word 'corporate' referring to companies and organizations, corporate videos are any videos that fall into the business category, typically using moving images to promote brands, products, services and more. Notably, corporate videos often have a narrower target market, rather than just the general public, like an advert for chocolate might have. This is what Jonathan Savage (2020) suggests when discussing corporate video going on to say that it's an "umbrella term used to define all video communications used for internal or external corporate messaging."
The Importance of Corporate Videos for Your Brand
It's essential to define the purpose of even making corporate videos. You don't want to start working on a project to then find throughout the process that you're not clear on the messaging or the color you want. Communication is key, and if you don't know what you want, when you're working with a team, you won't be sure at every single step.

You may be able to come up with some basic reasons of your own, but here are 3 essential ones to get you started:
1. Build trust with your clients and customers.

2. Increase your ROI (return on investment – the profit you make as a result of your investments).

3. Generate attention – social media presence in relation to your video can help you with that.
Corporate videos are clearly important then. But when it comes to the planning and actually producing these, how do you know where to start?

Prior (2021) points out that, "a good corporate video will help build trust and give relevant information to your customer about your product or service."
Classic Types of Corporate Videos
As Savage (2020) mentions, 'corporate video' is an umbrella term. So, there are clearly many forms of corporate videos. That's to your advantage! There are so many opportunities for you to seize in terms of creativity. The possibilities are endless.
I have sorted through many different types of corporate videos for you and present here a shortlist of styles I think you may find interesting and inspiring:
1) Brand Videos. Yes, that's right. Anything and everything to do with your brand. In terms of creative solutions, you can pretty much do anything with brand videos. Maybe it's a tour of your work spaces, promoting healthy work environments, or a catchy animation. Whatever it is, be sure to encapsulate you as a company; who you are and why you are relevant to viewers.

2) Testimonial Videos. Being a company, we too are familiar with testimonial videos. You may be wondering, "How can testimonial videos be creative?" Well, maybe it's more about the background and lighting of the videos. You want something still professional to earn the trust of future clients and customers. Or have the various testimonial volunteer videos edited together in a quirky and unique way.

3) Product Demonstration Videos. Any video that is trying to explain something needs to be clear and simple. Your main goal in this type of corporate video is to make viewers understand a product or service. How you do that is up to you. Every company will be different.

4) Recruitment & Training Videos. Everyone's onboarding process into companies is different. Maybe it's shown in a bullet-point list on a document or communicated verbally. Another idea is through a corporate video of this type. At the end of the day, videos are just more interesting and you'll probably find that employees will retain the information more easily.

5) Company Culture Videos. Closely linked to recruitment and training, are company culture videos. We've already given an example of one of these at the top of this article, with Netflix. Similar to testimonial videos, you may assume that they all have to take the same professional format.
A Corporate Video Project with BOBST
BOBST, based near Lausanne, is a Swiss-based multinational company that specializes in the manufacturing and supply of machinery and services to the packaging industry. You look at the type of industry BOBST is in and assume they don't need creativity. However, when it comes to videos, any corporate entity can benefit from creative solutions. Especially when it comes to videos.
Instead of celebrating their 80 years of success in a traditional corporate video format, we wanted to make this video a cut above. In the video, we follow a gleeful young girl who starts out making boxes out of paper. After her grandfather joins her, we transition to the BOBST factory, where he shows her their various machines. By the end, the girl stands with her original white box alongside the BOBST team. The idea of family, as it is a strong family business, is central to the message within the video. Stories and characters are much easier to understand, making this creative corporate video a more interesting video to follow. Stay tuned to watch the final corporate video with BOBST.
How can you make your Corporate Video Creative?
Feel like you've understood corporate now? There are key elements you can think about before you embark on your journey of producing creative corporate videos.
Jourdan Aldredge (2016) has detailed various elements to factor in when producing creative, corporate videos. Alongside his key ideas, I've described why these elements are important.
1) Animate logos. You need to grab your audience's attention at the start and send them a lasting impression at the end. My own thought: logos that are memorable reveal the professional and standard of work at the company, only through their visual identity. That shows you how important every detail is within a video. For instance, I associate the logo and branding of Nespresso with high-quality products. It's therefore not difficult to take the step in thinking that Nespresso delivers high-end coffee.

2) Get your subjects out of white space. It's that minimalist look that many companies go for. But, because it's become part of the norm, you need to step it up in terms of creativity to really stand out.

3) Try to avoid flat compositions and straight lines. The subject matter in corporate videos is typically going to be a challenge to make exciting and so you need to keep that in mind when you're creating a corporate video. Don't just film for convenience. Instead, think outside the box. Maybe you take your shoot outside, maybe there are different background locations (just shot at the same location).

4) Have conversations, not scripts because it's more natural and really shows the people behind the brand. Just like our example with Netflix, in our introduction.
Examples we love at SmartCuts
To see your company's potential in corporate video, take a look at these following sample videos:
1) A Black & White example. Black and white modern films are not new. Take the recent romance drama, Malcolm & Marie (2021), using black and white filters to "reclaim the narrative of black and white Hollywood and black actors really having their moment at that time", as starring actress Zendaya has put it. Black and white filters can provide effective messaging, and that's the case for corporate videos too. Feldhaus Klinker's creative corporate video is in black and white, which shows the professionalism and high quality they deliver.
2) Different people, Different Perspectives example. Where Airbnb focuses on short-term homestays and experiences, their corporate video is a perfect example of being creative in the video format whilst sticking to the core values and messages of the company. As the video unfolds, the camera switches between different people inside of their homes. What's great is that it almost feels like a testimonial video where you really feel you are part of the company's best interest. It's about your stay and your experience. From the video, you get a sense that there are so many different types of homes and people available to you through one platform.
3) An Animated example. Finally, you may think animated corporate videos might be limited to certain types of industries. Maybe you think animation is too childlike. However, that just isn't the case. Volkswagen, a leading car manufacturer created an animated corporate video that is a more playful and in a different approach to traditional car adverts. It almost looks like a scene out of Cars, the film series, therefore appealing to a larger audience. Who knows, maybe a child might persuade a parent to buy one?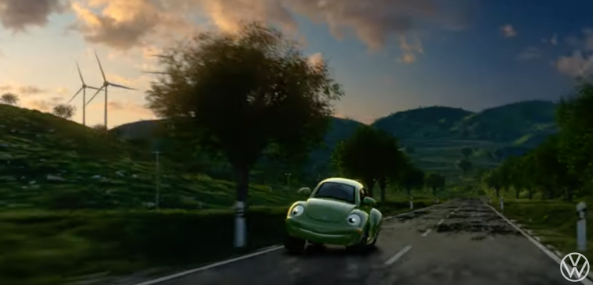 Final Thoughts: Corporate can be Creative
There is a possibility with corporate videos to think beyond the traditional video you might think you have to conform to for your company. The world is your oyster. Creativity and imagination is what you need for a video that might otherwise be boring and difficult to follow without the utmost force of concentration.
SmartCuts Creative provides a cutting-edge creative communication service: original concepts; clear, creative and concise content delivered competently. In other words, we help you get your message across through the following tools and services:

Video Production & Animation – corporate video, social media video, drone, interviews, interactive, video marketing, explainer videos, infographics, motion graphics and lots more.

• Design & Branding – digital concept development & strategy, web & interactive design, visual identity, graphic design.

• Digital & Social Media Marketing – campaign strategy, design & management, copy & content writing, blogs & SEO.

• Virtual-hybrid Events & Tours / Video-conferencing – webinars, full event development & management, moderation & hosting, virtual visits.

• Media Training – public speaking & coaching, look & sound great on camera.

• Green-screen Production Studio – large video & photo production studio, 100% soundproof, professionally equipped 360o green-screen.

SmartCuts has 10+ years of experience, 100+ satisfied customers and 1,000+ successful productions. We work in and around the Geneva and Lausanne area, but serve companies across Switzerland and abroad too.

We help you Say it Smart. Let's talk!
Give us a call or reach out now: