Corporate videos tailored to the world of sport
With Argentina recently taking home the Men's World Cup, we're taking a look at sports production. Corporate sports videos can help you tell the story you want to tell.
11 minute read
On Sunday, Argentinian and French fans sat on the edges of their seats as the Men's football finals of the World Cup progressed from a pretty clear win for Argentina, to extra time and then penalties. In the end, fans in Buenos Aires roared and cheered. That feeling seemed to echoe around the globe as Messi therefore took home his first World Cup. Whether you tuned in from your own home, local pub or even attended the football game at the stadium in Qatar, social media, corporate videos and live event coverage video played a large part in the marketing building up to the finals. However, with it's controversial start, as a competition being hosted in Qatar, many people boycotted.
The key football teams were posting on social media platforms, like Instagram and Twitter, so that their fans were engaged and felt connected throughout the tournament. Take a look here at this video posted by l'équipe de France as a behind-the-scenes video of their training session. Video ideas like these really keep audiences fuelled on nationalism.
Of course, in sport, these videos can take different turns and approaches. For example, a lot of the time, corporate video explainers, filled with key information that remains engaging, are popular.

In the world of sport, promoting clean and fair sport is essential. That concept is at the heart of organizations like WADA and ITA (International Testing Agency).
A Winter Olympics Scandal
This past year, the Winter Olympics took place in Beijing. Whilst ratings were low in the U.K. according to BBC Iplayer, I definitely tuned in. From curling to ski jumps and downhill, these Olympic Games were filled with excitement. What's clear is they also didn't fall short of scandals either. Fifteen-year-old Kamila Valieva became the center of a doping scandal at the 2022 Winter Olympics in Beijing after she tested positive for trimetazidine on December 25 – these findings only became clear after she led the Russian Olympic Committee to gold in the team figure skating competition.
Trimetazidine has been banned by WADA since 2014. The whole storm surrounding the results became a confusing time. Even American Olympic men's champion figure skater Nathan Chen spoke about the frustration of not knowing what was happening; "that's probably the hardest part, having no knowledge of the situation." In other words, we want to avoid these situations. Clean sport is thus extremely important. How can you promote this concept? Well, informative corporate videos are a great format to go by.
Corporate Sports Videos
1. What does an informative corporate video look like?
2. Why these videos for the world of sport?
3. Example types of corporate explainer videos
4. The benefits of using corporate informative videos in sports business
5. A SmartCuts Case Study
What does an informative corporate video look like?
An informative corporate video is a video that details information or concepts for businesses, emphasizing their key messages and morals. For sports, corporate videos can range anything from interviews with coaches to promoting your brands and institutions. For sport especially, messages are at the heart of the corporate video, no matter the sport or context. Found in a recent study, 73% of people would rather watch a short explainer video than read a text article. Showing a video will increase the chances of viewers actually retaining the information. For instance, take a look at this video by Eurosport. This video works because it has an exciting voice over, with a variety of real-life footage mixed with animated visuals. Key numbers and statistics are highlighted in boxes throughout so that you are more likely to remember them.
Why informative corporate videos for the world of sport?
As explained, the sports industry is inherently visual. That could include the marketing of teams and events, the live streaming of sports events and tournaments, etc. Dr. Tomi Wahlström (2021) argues that "sport is an expression of humanity such as art. It is an expression of human spirit in its many forms." Sports businesses require all types of information to be put out to different audiences depending on the sport. Later on in this article, you will discover an example sports video produced by SmartCuts Creative.
Example types of corporate sports videos
For the sports industry, there are several types of corporate sports videos that are appropriate for marketing schemes. Let's take a look at the ways in which Switzerland Men's National Football team, who recently competed in the Men's World Cup in Qatar, and FC Sion Club use various types of videos to explain concepts and get viewers engaged.
1) Pre-game videos
Pre-game videos can be anything. They can be training videos, videos of the players, or adverts for the team. Take a look at this corporate video for the Swiss national team as they headed to the World Cup. The players' names on the shirts are passed around various communities in Switzerland, highlighting Swiss nationalism and pride.
2) Press conference and media interaction
Press conferences are great because they can include coaches and players. Take a look at this video where Switzerland's coach, Murat Yakin discusses, in German, their approach for the World Cup match against Portugal in the group stages.
3) Interviews and Testimonials
Like a press conference, interviews and video testimonials are great for fans and viewers to get an insight into sports clubs. Watch this interview with Christian Constantin, president of FC Sion football club. The video splices video footage of Christian being interviewed with him watching football games, making the interview that more interesting to watch.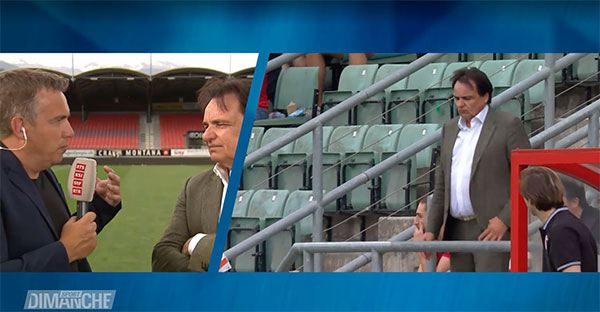 4) Team Challenges
Team challenges are also great to engage viewers. In this video from the FC Sion club, footballers Kevin Fickentscher and Gaëtan Karlen. Any type of game or challenge is exciting for viewers, especially if it's players they like.
5) Post-game videos: highlights
Finally, another type of corporate video you can include is highlights of a game. Watch as Swiss football player Embolo delivers: Switzerland v. Cameroon highlights. If viewers missed the match or if they want to rewatch sections, videos like these are great.
The benefits of using corporate informative videos in sports business 
So you've heard of the examples now, you might want to think of the benefits of these for sports. The idea of a corporate video is to showcase a brand's story or message in an interesting way for customers, or in some cases for the world of sport, for the fans. With that being said, here are 5 benefits of corporate informative videos:
Videos, in general, can be responsible for increasing traffic. Why is this? Well, essentially, people are much more likely to engage with videos than anything else. According to Hubspot (2018), 54% of consumers want to see more video content from a brand or business they support. Using corporate videos for sports brands, teams, and businesses divert traffic towards your brand.
Videos create brand awareness. Whatever content you post, it should be engaging for consumers. Visuals get viewers hooked, and you can tailor them to your target audience.
Video sharing is easy and accessible for everyone. Various platforms can be used like YouTube, Instagram, Twitter and Facebook. These platforms are used by millions each day and therefore your target market is bound to be included in those numbers. Not only are video platforms easily accessible, but your videos will be able to spread easily. For instance, if someone finds your video great, they might share it with others.

Videos help increase client engagement. Studies (2022) show that 84% of people say they've been convinced to buy a product or service by watching a brand's video. With videos, people can comment and give immediate feedback on products and services. In general, videos give more opportunities for viewers to engage.
Finally, videos will boost your search engine ranking. When a business puts a video on their website, with appropriate keywords, more viewers and customers can be attracted to the website. This may lead to more probable leads.
SmartCuts work with ITA
Recently, SmartCuts Creative worked with ITA (the International Testing Agency). ITA runs a training program for International Anti-Doping Control Officers. To raise awareness about this program, ITA worked with SmartCuts to create the following video. Corporate informative videos are essential. The challenge was making it engaging and interesting. That's why we've spliced the video with different videos of athletes, mixed with the process, so athletes can identify and others can be more engaged. Note that the video was put together with footage shot by SmartCuts, but also stock footage. This can be a very cost-effective solution, when chosen carefully and not overused.
Conclusion
As discussed, sports are highly visual. Fans won't be able to feel the punch or react strongly to what their teams bring to the table without videos. Therefore, the power of sports video marketing for teams cannot be overlooked. As seen in this article, there are so many approaches to videos in the sport industry. Having video marketing in sports shows the followers that their favourite sports team loves to take them on the journey and share everything along the way. What needs to change is the marketing gender inequality between men and women in sport. Check out Michael Long's article on women's sports marketing to read further on this topic. If you want help with sports video production or corporate video production, feel free to contact us. Happy Holidays!
Give us a call or reach out now: