Learn all the marketing secrets behind a brand success story
If you're looking to set up your own brand or have a re-brand, take a look at Oatly's brand success story and look at all the tips to create your own success story.
10 minute read
If you've gone to the shops recently, you've probably seen the endless choices of milk that are available. From soy to hazelnut, there are so many options. Oatly is one of the top-selling plant-based milks in 2023. The Swedish oat milk manufacturer achieved 12% sales growth to reach $722m for the 12 months ended 31 December 2022. Essentially, Oatly is a successful brand, dominating in the food industry. But how did the company become so successful? In today's article, we're going to look at Oatly's approach to marketing. Let's get started!
If you want to watch a full video on Oatly's marketing story, you can watch this talk that John Schoolcraft, global creative director at Oatly, gives about Oatly and how to crack consumer marketing. He discusses how a lot of companies work in terms of marketing and how Oatly was disruptive in their marketing strategies.
In this article: 
1. The introduction of plant-based milk.
2. Brand awareness with Oatly.
3. Example Oatly adverts.
4. Marketing tips, exemplified by Oatly's success story
The introduction of plant-based milk 
Almond and oat milk are popular choices amongst consumers. Sales of plant milks have increased significantly in recent years, but the oat milk market has seen the most growth by far. In the US alone, retail sales of oat milk increased by more than 50% to US $527.44 million in 2022 – indicating its mass appeal among consumers.
Oat milk has been the subject of many innovative product launches in recent years. These launches have focused on the use of simple, high-quality ingredients, often highlighting the specific regions or farms from which the oats are sourced. This emphasis on quality and transparency is catching on with consumers and has helped place oat milk among the best alternatives to plant-based milk.
Brand awareness with Oatly 
So how did Oatly get their brand everywhere? Oatly did something different. Rather than going digital straight away and promoting their brand on social media platforms, they decided to go straight to coffee shops. This was so that they could expand their commercial reach and raise product awareness. Oatly sold themselves as the best plant-based alternative, and best alternative to dairy. Oatly chose a selection of coffee shops in the U.S.
This was a smart move because the people in these artisanal coffee shops are most likely going to be seeking an alternative to dairy to put in their coffees and teas. In the end, coffee shop consumers began to recognize the brand name, Oatly. Watch a quick break-down of the brand's story, here.
Example Oatly adverts
Some of Oatly's aims were to disrupt the dairy industry's sales, bring attention to animal cruelty in the dairy industry, and increase the sales of Oatly products.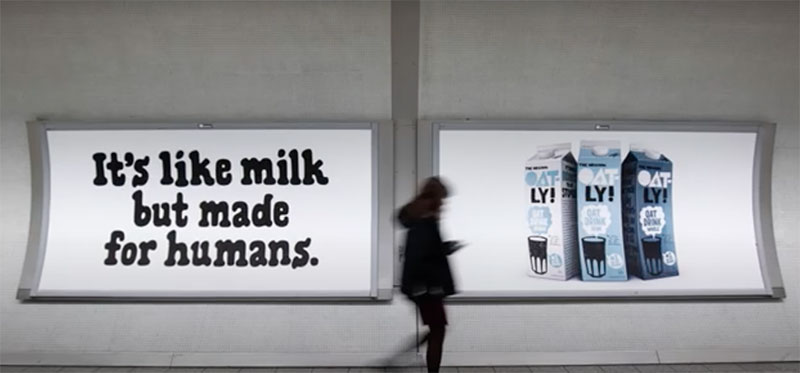 An example of an Oatly advert is when they used the slogan, "It's like milk but made for humans." The company posted ads in unusual places and used messaging that grabbed people's attention. The ads drew attention to the (obvious) fact that humans are not baby calves.
The £700k campaign ran across major transport hubs. This is the ultimate way of getting mass people to view your brand. Oatly also used social media to promote their brand. They used the hashtag, #ditchmilk. A phrase like this helped to make the brand even more popular and was talked about more and more. Oatly themselves even admitted that some of their campaigns created more of a debacle than others. You can learn more about the hashtag here.
Marketing tips, exemplified by Oatly's success story 
Now that you've seen some of where Oatly's success in marketing has come from, let's dive into some key marketing tips.
1. Transparency and brand activism. 
On their website, Oatly reveals relevant comparative data with respect to animal products. For consumers, they decided to provide information on its packaging about carbon dioxide emissions.
2. Don't be afraid to be disruptive, entertaining and humorous with your adverts. 
It definitely catches your eye when you see an advert with the slogan, "It's like milk but made for humans."
3. Make videos where you interact with consumers. 
Take a look at this video produced by Oatly, where they attended the 73rd Berlin International Film Festival, asking people what was missing from the festival. The answer; milk. Just take a look for yourself.
4. Be personal and stay true to your target audience. 
Instead of selling their products in large supermarkets, they chose to promote themselves through baristas. They quickly enamored a very active hipster audience on social networks who would unwittingly become ambassadors of their oat drink.
5. Have brand ambassadors or people with a large following to back your brand. 
Consumers are more likely to buy from your brand if they see other people also trust the brand. Oatly's image has benefited from a roster of celebrity investors, including Oprah Winfrey, Natalie Portman, and Jay-Z. All of them have some connection to the plant-based or healthy living movement.
In summary
Everyone's marketing strategy will look different depending on their industry and their goals. Hopefully by reading about some of what Oatly has done, you have a better understanding of the possibilities of marketing for your brand. If you need more guidance on traditional marketing, social media marketing or more, then feel free to get in touch with us. Here at SmartCuts Creative, we offer a free consultation meeting. We can discuss your ideas in the hopes of bringing them to life!
Give us a call or reach out now: