How to Find the Right Video Production Company
Choosing your video production company can be tricky. Here are some useful tips and tricks to get it right. 
If you're not using videos within your marketing campaigns, you might want to think about implementing them now. Videos really boost your brand. "81% of marketers say video has helped them directly increase sales." (Wyzowl, 2022)
Videos are increasingly becoming the go-to medium for selling content, concepts and products. Companies, small and big, are quickly understanding the effectiveness of videos for their marketing campaigns. The key is creating content that actually sells, is unique and interesting. That's usually where a video production company comes in, but you want to make an informed decision and choose the right one. What Haslam pointed out in 2009, is just as relevant today. He writes that "what holds many companies back is the fear of spending their marketing budget on a video production company that does not deliver the expected creative results and Return on Investment." A key take-away from Haslam's article is not to go with the cheapest offer/quote you receive from a video production company.
Rest assured, we'll take you through all the necessary steps before you jump into hiring a video production company.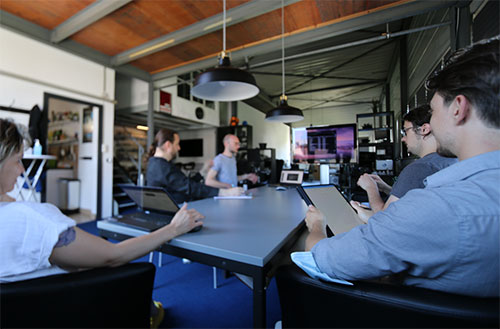 How to select the video production company that's right for you
1. Introduction
2. Defining Video Production
3. Why you might need a video production company
4. Sample Questions to ask Yourself
5. Example Questions to ask Production Companies
6. Why work with a Swiss Production Company
7. Final Thoughts
Defining Video Production
Assemble (2022) has defined video production wonderfully. "Just as a story has a beginning, middle and end, so does the process of creating video content from idea generation and planning to execution and distribution." In other words, it's everything that goes into making a video.
Why you might need a Video Production Company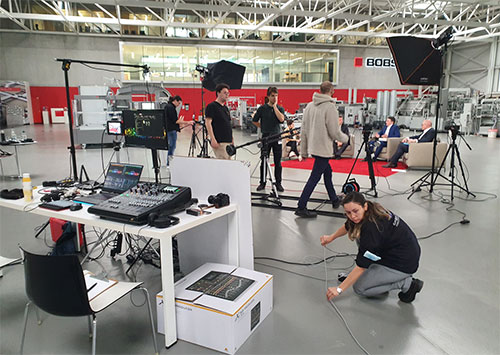 If you're thinking you need to work with a production company, it probably means you want content that is professional. Prior (2022), highlights that "by hiring a video production company you are ensuring your videos are going to be clean and polished ready to grab consumers from the start as professionals know what they are doing."
Just to mention a few, see the following benefits:

1) Post production experience and expertise.

2) High quality equipment.

3) Knowledge of lighting and sound.

4) More people means more minds – The more people, the higher chance you have of creating higher-quality and more creative videos and concepts. Obviously there's a balance needed – you don't want too many people involved in the project.
5) Higher quality videos will make clients that are doubting your brand beliefs contact you. For more information on this subject, have a look at our recent blog post here.

6) Artistic direction. Creating videos by yourself may seem overwhelming. A collaboration with a video production company allows for you to have balanced, creative control over the project. In other words, it's up to you whether you want to be more involved or leave it up to the production company.
Lists like these may seem exhaustive, but the previous steps are crucial. You don't want to be left with a video that wasn't what you ordered. At the same time, video production companies do not want unsatisfied clients.

Following in the steps of White Knight Productions, ask yourself these questions before hiring a production company for your future projects.
Sample Questions to Ask Yourself
Questions before taking on a video partner in crime:

1) Why do I want to work with an external video production company? Maybe you need additional resources. Maybe you need someone to help you with marketing strategies. Or maybe you just need extra help so you can focus on your job or what you do best.

2) Ask yourself how much creative control you want. A creative agency like SmartCuts Creative can be on both sides of the extreme. They can collaborate with you more evenly, or take a large chunk of your work.

3) Have a clear idea of what your budget is for the project. Before even contacting a video production company, just know where you sit in terms of money. You don't want to start contacting companies without knowing what you want and for how much. You want quality work and service, but for a fair price.
But, it's not just about asking yourself questions. You really want to be sure the video production company is the right fit for you and your project.
Example Questions to ask Production Companies
1) What kinds of videos do you specialize in creating?

2) Who will we be working with on our project?

3) Have you worked with anyone else in our industry?

4) Can you share some samples of recent work? In the case of SmartCuts Creative, we have lots of case studies presented on our website, showing several past video projects from animation to photography.

5) What is your process like? You want to know how your project will fit into their workflow and yours.
Why work with a Swiss Production Company
Video production companies are everywhere, around the globe. What does Switzerland have to offer then?
For our Local Clients…
If you're currently working and living in Switzerland, you may be more benefited reaching out to your local video production companies. See here some of the benefits:

1. It's going to be cost-effective. If your company or organization is based in Switzerland, it's going to cost you more to have a crew come in from abroad than to use local talent. From hotels to flights, it will be expensive.

2. Local talent is high here. Not only is it better to support local talent, there's also a lot of it around Lausanne and Geneva, so you won't have to look too far.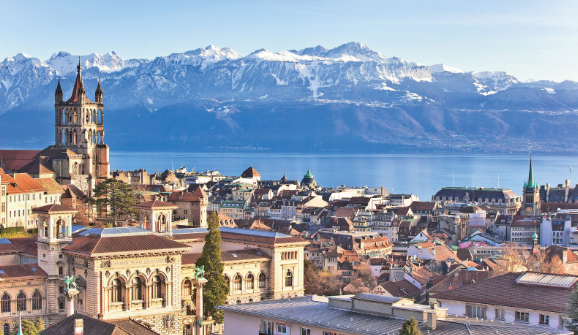 For our Clients Abroad…
In the image above, you'll find Lausanne. SmartCuts Creative is situated right beside Lausanne, in Bussigny. Yes, that is the view we see on our commute into work. This leads us to our first reason…
1) Location, location, location. Want to be surrounded by mountains and by Lake Geneva? That's pretty much the standard when you come to our studio in Lausanne. Whilst you may not even come to our studio to work, there's always the option to have a quick trip to Switzerland. Otherwise, we're always on the end of a call, as we're all familiar with Zoom, Google Meet and Microsoft Teams now.
2) Bilingual spaces. At SmartCuts Creative, we work in both English and French. Bilingual employees are also very valuable, adding another dimension to our team. One point to note is that bilingual employees are "viewed as having excellent communication and problem-solving skills as a result of their experience in developing a second language while maintaining command of their native tongue." (Holland Page, 2019)
Final Thoughts: How to Find the Right Video Production Company
What's key to this search process is really knowing what you want. Know how much creative control you want, your budget, etc. Make sure to have everything planned out before you jump in.
Need something beyond a Production Company?
SmartCuts Creative, based in Geneva and Lausanne, is not just a video production company but a creative agency. That means we offer a lot more than what you might expect from just a production company. See a list of some of the services we provide below:
Please feel free to contact us anytime.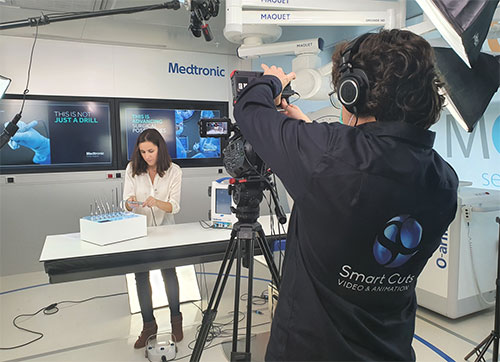 Give us a call or reach out now: