Our Top 6 Creative Trend Predictions For 2023 Are…
As we head into February, we're making all the predictions for creative trends this year. Take a look.
14 minute read
2022 was a huge year. From the rapid evolution of AI and NFTs to the rise of TikTok and the resurgence of Y2K. For example, according to McKinsey (2022), the average number of aI capabilities that organizations use has also doubled – from 1.9 in 2018 to 3.8 in 2022. And, a month into 2023, we're taking a closer look at creative trend predictions for this year.
So get ready because it's time to look at the year ahead! From graphic design and branding to email marketing, let's take a look at some of the potential creative trends for this year.
Creative Trend Predictions
1. Why stay on top of trends?
2. Content creation: quick tip
3. 6 creative trends for this year
Why stay on top of trends?
Before we get to the trends, you may be asking yourself why is it important to keep up on current trends? Essentially, by staying on top of creative trends, you'll constantly be learning; new tools, new events to participate in, new ways to be efficient. For your brand especially, staying informed on trends is essential to help you build credibility and value in your field. It will also help your brand in identifying new opportunities to better advertise your company and to ensure that more people will become aware of what it is your business focuses on.
Keeping up on creative trends also shows that you are an active business that keeps up with the times. There are so many videos explaining or predicting various trends. Take a look at this one by Motion Array Tutorials, where he breaks down video trends for 2023.
Content creation: quick tip
Amongst these creative trends, you'll see everything from email marketing optimisation to trending social media platforms. A key note in all of this, is that whatever content you are making, whether it's for social media platforms or in the form of videos, you will want to please the search engines and your audience (whoever that is for your specific industry).

In 2023, focus on the following aspects to satisfy search engines and your audience:
Focus on more authentic content;
Create a strong brand image by taking a stand in your articles;
Become an expert in your field and educate rather than trying to sell at all costs;
Respond precisely to your prospects' queries;
Convey emotion through your writing by using storytelling.
Now, let's get into all the creative trends for 2023!
Our top 6 creative trends for 2023
Here are our top 6 creative trends for 2023, everything from email optimisation to promote your brand, to the biggest social media platforms to be on.
1. YouTube shorts are not here to stay
It's probable that YouTube shorts will not last. Much like reels on Instagram, YouTube shorts is the short-form section of YouTube. Why will they not last you may ask? YouTube faces so much competition from Instagram and TikTok that I don't see shorts growing beyond their current adaptation. Instead, I expect YouTube to build on what differentiates it from social media platforms that demand shorter video content and prove its worth in new ways, whether that's by changing its user interface or adding new features to improve the viewing experience.
2. TikTok will become the biggest app
Some of the hottest social media trends in 2023 are short-form video and live streaming. With apps like TikTok growing in popularity as time goes on, it's not surprising the rise of short-form videos. Our attention span is also so short now that it's understandable that TikTok is successful. Marketers reported that TikTok offers the second-highest potential to grow audiences in 2023. In a Hubspot consumer trends survey, they found that 62% of Gen Z uses TikTok, and it's also the platform they spend the most time on.
3. Artificial Intelligence: the rise of Chatbots 
Just like the excitement generated by the metaverse, the advertising world is now getting excited – as much as worried – about artificial intelligence, from ChatGPT, and Midjourney. Just a year ago, who would have bet that a chatbot would become the trend of the moment?

Creative people and digital artists are considering the consequences of AI. But, people like Anselmo Ramos, are considering the benefits of ChatGPT to copy and content writing. You can see his tweet here.
4. The optimisation and personalisation of email marketing
Despite dire predictions, emailing is still relevant.

The content of email marketing is becoming ultra-personalised, more authentic and more transparent to meet the expectations of subscribers. The advantage of email marketing is that it generates an excellent ROI. So you have everything to gain by creating a unique email experience.
To seduce your audience and convince them of your expertise, take note of these three levers: segmentation, personalisation and automation. Remember to opt-in when subscribing to your newsletters!
5. Influencer marketing
92% of buyers trust a recommendation from an influencer and the trend is growing. Many brands are now using influencers to boost their sales and are focusing on quality over quantity. It is important to choose the right person to represent your brand's image through the networks. For example, in the Lake Geneva region, there are several influencers to choose from. Le Grand JD boasts 950K followers on Instagram. With some of his videos on his YouTube channel focusing on nature, like rating the 3 most beautiful places in Switzerland, a brand like National Geographic could get in touch with him.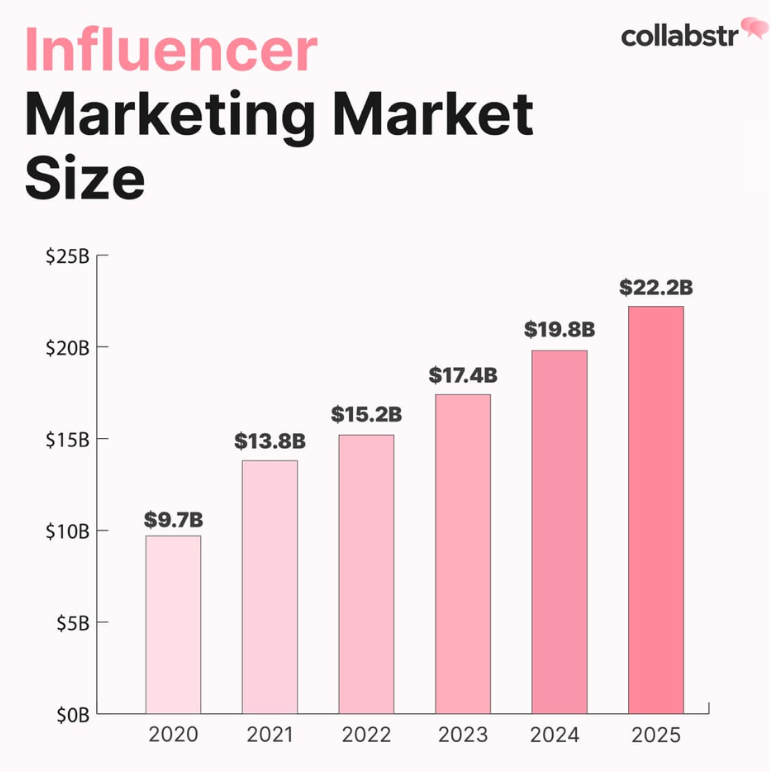 For an effective content marketing strategy, start by defining your target audience, then choose the social media platforms where your audience spends the most time. Then, contact the most reliable influencers who are most in line with your brand identity.

Together, create a lot of content (contests, videos, quizzes…) and monitor the results of your campaigns to make sure the investment is profitable.
6. Podcasts will be bigger than ever
In order to create quality content, many brands are expected to turn to podcasts in 2023. This audio format is part of a strategy to diversify communication media. The aim is to offer increasingly personalized content to reach your customers and prospects at different times of the day. So don't hesitate to offer podcasts to your target audience, they should appreciate the effort. For example, here's a suggestion from us. The Science of Social Media by Buffer is a great podcast about social media marketing. The podcast doesn't publish regularly (there were only a handful of episodes in 2022), but there are 200+ episodes to sort through. The presenters are well-spoken, the audio quality is excellent, and the topics are diverse. You can hear the latest news and updates that impact social media marketers, get inspired, or learn a new strategy.
Conclusion
So, there you have it! Those were some of the key creative trends for 2023. From email marketing to TikTok, we'll see how many of those trends are to stay for the entirety of the year. Feel free to reach out to us for more on any of these services, from social media to design and branding. SmartCuts is here to help.
Give us a call or reach out now: