Our Green Screen Video Studio
Green screen studios have many uses and are gaining importance in creative communications.
A green screen is a green background that you place behind the subject of your video, usually one or several people.
In post-production, a technique called "chroma keying" is then used to remove the green entirely from the resulting video footage. This means that video editors are able to replace the green with transparency, which then allows any video or image placed behind the original footage to filter through the parts of the footage which previously bore green.
In other words, it's easy to place subjects in virtual background seamlessly, whether in fiction film or corporate video productions. This is particularly useful when having to broadcast an event without having a physical venue. Your talent can be located in Switzerland, but with a green screen, we can embed them elsewhere, like we recently did for UEFA in our studio near Lausanne, Switzerland.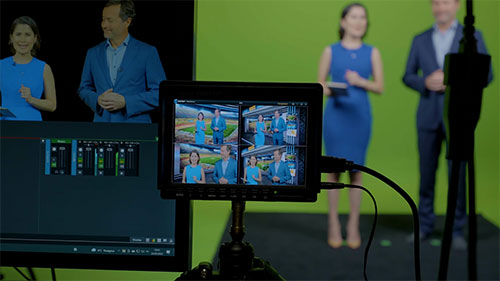 How real does it look?
You've probably experimented with virtual backgrounds and in-real-time chroma keying during Zoom meetings…to various degrees of failure: "Whoops, there goes my arm." You know the type of thing we're talking about. Well rest assured, with a green screen, we can reach perfection down to making tufts of hair straying from your head detach from the backdrop. Here's how we do it at SmartCuts: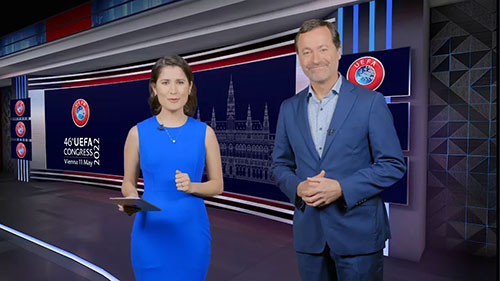 1. Choose the background:

We take a high-quality picture of the place that we want to use as a background – always keeping in mind camera angles and light. We can later even blur the image a bit to create a nice, artificial bokeh.
2. Set the right light:
Once in the green screen studio, we replicate the type of lighting that we had during the photo session to capture the backdrop. For instance, if we want to make it seem that we are inside a hospital, we might have to use white lights instead.
3. Set the camera angle and focus.
Angle and focus the camera in a way that matches the picture in the background.
4. Create shadows.
This is an element that editors often overlook, but that, if not done, will give away that the background is not real. It's important to create shadows of the subjects' feet at least. If you want to save time and avoid this, you can also simply use a dark carpet in the green screen studio, to go under the subjects' feet.

That way they cast real shadows as the carpet will not disappear when the green is keyed out.
5. Voila! The magic is done.
The lighting, the camera angle, and professional chroma keying (the art of replacing the green with the virtual background), will make the result so real, that it will be tough to tell it's not.

Using a green screen is the most effective way to go when you want to film in areas that are hard to access – either because they are too far to get to, have disruptive noises, get easily crowded, or are simply too expensive to rent out.
The Biggest Advantages of Green Screen Studios
1. The light will always be consistent.
Shooting video in open spaces are tricky, especially if we are talking about an interview or an event where the cameras need to shoot for an hour or more. The weather and sun placement will always be a determining factor for how good the subjects in your video will look.

Inside any studio, it won't matter if it's day or night, the lighting set by professionals won't change during the shoot.
2. Sound proof consistent.
Inside a green screen studio, you will only hear the sound that you want to hear. The production won't be disrupted by any unwanted noise, like people chatting in the corridors of the building, footsteps of anyone passing by, or airplanes.
3. Fun and creative.
Explaining complexities has never been easier. Inside a green screen studio, you will be able to show anything and everything while you are still on camera. Viewers will be able to see you explaining any topic with an animation or graphic by your side.
4. Versatility.
Because green screen studios can teleport you anywhere, you are able to appear in different locations in the same video, without actually having to move or transport heavy video equipment. This versatility is a huge time saver for video productions based on multiple locations.
5. Cost-effective
You not only save time, but also tons of money. Because of green screen studios, the crew doesn't have to pack up gear and move it here there and everywhere, venues don't need to be rented, shoots go more quickly… you get the idea.
Green screens are not just for great for films, but also for corporate events.
For videographers, having a green screen is like having a magic wand. It's the white canvas for painters and teleportation for day dreamers. The best literal example is the Alice in Wonderland movie (2010). The main character, Alice, falls into a deep dream of unthinkable adventures in a magical wonderland. And, well, to create a world that doesn't exist, most of the movie was shot on a green screen.
Green Screens for Corporate Settings
But, before you think this post is for aspiring filmmakers, green screens are now becoming extremely popular to make professional and high-quality corporate videos and events. Why you might ask? After all, no need for rabbit holes in corporate settings. Perhaps not, but as stated above, corporate settings which are quiet, well-lit, safe, undisturbed at the right times and so on, can be hard to come by and a nightmare to line up logistically.
If you can get a team to capture the setting once, when conditions are right, you can then use it any time you like as a virtual set. You just get talent to do their thing on green screen, and then embed them in the set in post-production. This is also a great way to vary venues at minimal cost.
Choose a 360 green screen studio
SmartCuts Creative has the one and only 360° studio in Switzerland. It has hosted international virtual events for clients like UEFA, Mazda and Medtronic. created corporate videos that stand out for companies like Mazda or Bobst, and even recorded online classes for reputable universities like IMD.

Video production and event hosting has never been easier.


Contact us here to get a quote for free!
Give us a call or reach out now: