Video and animation production for NGOs
SmartCuts has solid experience in producing videos for NGOs
NGOs have an important need for communication
Associations and non-governmental organizations have a very strong need to communicate. Whether it is to recruit donors, to inform people about a targeted issue or to inform its members about its activities, NGOs must invest in communication. They know it too. Video is the most effective means of communication for them. Indeed video allows them to speak to various target audiences around the world, to explain their activities and to inform about the causes they defend.

But even though it is essential for NGOs to invest in effective communication, money is often the number one obstacle. Especially when it comes to explaining a complex problem located on the other side of the world. Budget is often not in line with the scriptwriting requirements.
SmartCuts helps find solutions to limit and respect the budget of associations
At SmartCuts, we have often been faced with this problem. But we have always found alternative solutions.

For example, we recently produced a 2-part video for the International Catholic Migration Commission (ICMC) whose mission is to protect the rights and dignity of refugees, asylum seekers and migrants. For this project, it was necessary to represent complex scenes in very different places, like people crossing the sea in the middle of a storm. We therefore carried out this project in animation because filming it would have been out of budget, too complicated and too long.
Animation allows you to show scenes that are difficult or too expensive to film
Animation as an effective alternative
Animation is often a very good solution that we offer to NGOs, and which suits them perfectly. It allows us to be inclusive; to represent people in a broad way, without distinguishing between gender, race or culture. Plus, as said before, it allows us to be more creative in the script without worrying about a shoot that is too complex and impractical.

A well-written script can reach a large and diverse target audience. Another good example of a successful animated solution is the video series we produced for the International Cocoa Initiative. This organization protects the rights of children on cocoa plantations in Côte d'Ivoire and Ghana. One of the challenges of this production was that the organization wanted to reach out to villagers directly impacted by child labor on cocoa farms, and at the same time to companies like Nestlé who import cocoa. It's a big challenge to speak to such different audiences.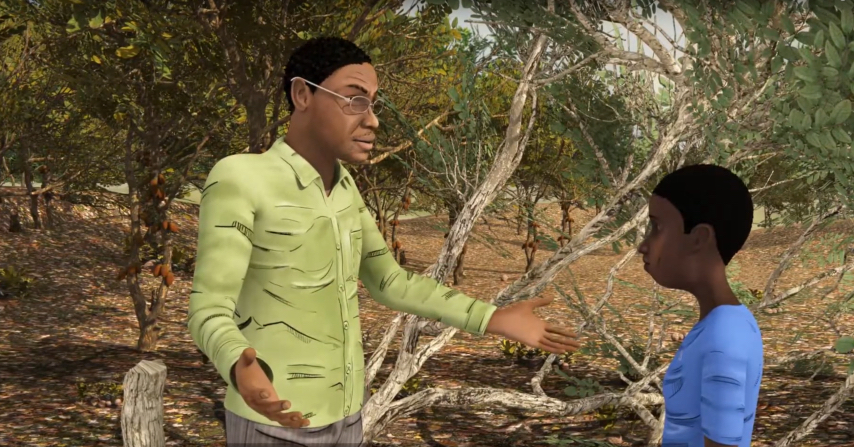 Another challenge for this production was that the content had to be didactic. We had to convey several pieces of information, such as figures and facts. However, a video that's too instructive, informative, does not captivate viewers. So we created a narrative with characters and a bit of humor to carry the message through a great story. As the motto "Show, don't tell" says, a story makes it possible to transmit information in a way that viewers will more easily watch and, above all, retain.

We produced a series in 4 episodes in French and in English, explaining through the story of a young boy, the dangers to which children are subjected on cocoa plantations, as well as the importance of education.

The voices of the characters were recorded by people in Africa, at local radio stations. All of this reduced costs and worked very well. This animated series satisfied the customer who still shows it today in some villages in West Africa.
Animation makes it possible to convey a message through fiction.
The importance of targeting your audience and staying focused on a theme
Sometimes we see a tendency to want to reach too large an audience and cover too many topics at the same time, which can make the video lose impact. At SmartCuts, we advise our clients, especially NGOs, to stay focused, to produce several different videos aimed at a different audiences each time rather than trying to make one single video do it all. So, while staying within the overall budget, it will be easier for us to write a solid and attractive script, ensuring that the video hits its mark.

SmartCuts has extensive experience producing videos for NGOs. We have recently produced a video for the Union for International Cancer Control (UICC) as well as a series of videos on different topics for the United Nations.

While animation is often a solution we turn to with NGOs, it won't necessarily be the solution every time. But we have the experience to assess that and advise clients so that, together, we can make the best choices for an effective communication campaign that's on budget. We offer solutions in all situations: limited budgets, complex scenarios, restrictive filming and even when hell and high water come along, we pull through!
Take a look at our animation showreel now!
Give us a call or reach out now: