Music Video Production Showreel
To produce music videos that stand out, you need to innovate, all the time, every time. Even if the trappings seem the same, we always endeavor to introduce a new technique or scenario to each music clip we produce. Fortunately, we have the right talent in-house to do this: an Artistic Director with flair for what's in the Zeitgeist; young videographers who jump at the opportunity to use new shooting and editing tricks; and a sound designer with experience making music come to life on video.


Bad Heidi
Bad Heidi came to shoot the music video for their song Mists of the Lake in our studio. They needed a flawless green screen and an affordable studio space that had all the professional trappings, such as soundproofing and high quality lighting. The result is a great music video clip and a whole lot of happy people, well satisfied with the way things came out.
Le Flyyy and Akiyana
Le Flyyy is a rising star in the Afrobeat genre. Based in Switzerland, he contacted SmartCuts Creative to help him produce his music video clip for the song Badman / Badgirl, for which he joined forces with Ghanaian singer Akiyana. The whole video clip was shot in our studio on greenscreen to allow editors all the options of colored backgrounds in post-production.
Case study – music clip video, Bad Heidi
Music video by Bad Heidi
Bad Heidi, music video production
Swiss band Bad Heidi needed a green screen studio to shoot the music video of their song Mists of the Lake. They contacted us, and shortly afterwards, the equipment entered the studio for an intense session.
The clip was shot by a team of 8 people, using all our studio's assets, from our 360o green screen to fully suspended lighting.
The green screen was used in the editing process to transport the actors and the band into an imaginary world, created through creative color grading.
The Bad Heidi team really appreciated the quality of the studio, but also the space they had to relax and discuss the shots and the project as a whole, whether in the lounge or in the catering area.
 
This video clip shows the potential of using a large green-screen studio for this type of production.
Music Video Case Study
Musicians from The Flocking Murmuration
Music Video for The Flocking Murmuration
The Flocking Murmuration is a local band headed up by lead singer Dan X, a talented singer-songwriter who also worked for a time at the International Union for the Conservation of Nature, IUCN.
In that capacity, he came to our studio to do a voice over script recording and realized the potential for his band. We began to shoot concerts and do music video clips.

The collaboration was immediately successful and fun. Our work together culminated in the production of a clip for the song called "Small Enough" For this music video, we helped craft the scenario, choose the setting and shoot in nature using a drone to capture visually compelling shots throughout. The session was long but fruitful. The edit was even longer, but led to the video you can watch here, which everyone was well pleased with.
Other music videos we produced for Flocking Murmuration include Brave and The Flockumentary. These music clips have helped the band grow their audience and make in-roads online.
Music Video case study
Clips for Le Flyyy and Akiyana
Music Video for Le Flyyy and Akiyana
When the Swiss-based Ghanaian singer songwriter called Le Flyyy contacted us to shoot a music video clip in our studio, we were a bit surprised because of how simple the request was.
This music video clip shows the potential of using a large green-screen studio for this type of production.
No set, no actors, no scenario work, no storyboard – just an empty studio with its 360-degree green-screen and 1 camera with operator. We looked at each other and thought, "Is this going to work?"
But when we saw the results (we passed the footage on to an editor in Ghana for the post-production), we were struck by how well things came out. We also really enjoyed dealing and working with Le Flyyy and Akiyana, who were very easy-going and evidently good at what they do.
Why do you need a film?
Music and video fit together organically to create the music video genre. The subject and the editing of music videos both have a direct impact on how we experience the accompanying audio track. Music videos can have a performance-oriented treatment, where musicians, singers, and other performers are shot in conventional live performance venues. Some bands have compiled video clips from the performance of the same song in different cities they visit while on tour. Many more musicians, singers, and musical groups choose a more artistic approach. Visual storytelling, replacing explicit verbal narration with music, is one way to add another point of view for viewers and listeners to access the emotional tone and message of a song. The creators of a music track can have total artistic control over their music video production or work with video producers and provide direction. They may also give up any advisory role and allow video creatives to come up with, and implement, their visual interpretation. The final video outcome must present a song and video that have an apparent and cohesive relationship.
Why with SmartCuts?
Getting views, shares, and making a buzz with your song today means making an impact, not only on the ears but also on the eyes. SmartCuts Creative's work has been picked up by local media, such as RTS, and has provided several bands with quality material to showcase their music. We strive to capture the essence of your music in our video production for musicians. If you have seen a music video you like, perhaps some special effects you might have thought were out of reach, or thought you might like to use a specialty video shoot apparatus – let us know! If you would like to relinquish artistic direction, SmartCuts Creative has imagination on tap and deep knowledge of our extensive video production capabilities. Rest assured that we don't take shortcuts when it comes to your video's audio.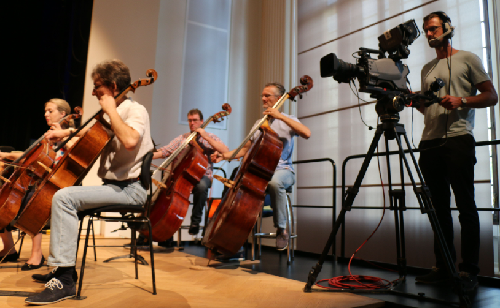 Our professional audio engineers calibrate full and balanced audio according to your parameters. We can let your music fly by incorporating aerial footage or let your music float by incorporating underwater footage or let your music defy gravity with out-of-this-world background video footage combined with 360° green-screen video shot in Switzerland's first and only 360° green-screen studio. You want it, you've got it. The only thing we need is your soundtrack.
How does it work?
Listening to you, our client, is a big part of the process, as is taking the time to absorb the mood and meaning of the art itself. Translating it into video is our job. Whether it be for music videos or videos tailored to build up the anticipation of a track or album drop on TV and social media, SmartCuts Creative has the skills and experience to deliver professional results. Workflow and communication are pillars in our collective creative process. SmartCuts' service is end-to-end, from conceptualizing and storyboarding to final delivery. You can also choose to use our consulting service to implement a strategy to market, manage, and promote your video once produced. SmartCuts Creative is composed of artistically accomplished persons putting all their focus on delivering a multi-sensory composition to impact music fans on a visceral level.
Say it Smart!
Stand out for all the right reasons.
We help you communicate in a clear, creative and comprehensive manner. Make your message memorable…