Welcome to the SmartCuts production studio
Fully equipped:
5m x 8m
360° green-screen
100% soundproof
Large teleprompters
External video control room
Fully suspended adjustable mics
Fully suspended adjustable LED lighting
Private lounge & dining area & amenities incl.
Virtual Tour of SmartCuts' 360° Green Screen Video & Photo Production Studio
Loading…
Use your mouse to drag the image around. Click on the anchors to move to the next location. Click on the hotspots for additional information. Enjoy the visit!
Video & Photo Studio Rental Options
Dry Hire
You bring your own crew and kit and we provide the following:

– Professional LED lighting
– One directional mic on a moveable boom with XLR cable connection
– Technical assistance
Wet Hire
You hire our crew and kit. We offer the following:

– Industry standard Sony FX3 & A7S3 cameras
– Up to 2 large studio teleprompters
– Confidence monitors
– NDI video signal connectivity
– VMix software equipped control room
– IEM system
– Crane, jibs, sliders and more if needed
Need more information?
Get in touch for more details about the studio equipment and what you can hire. One particularity of your studio is that all the lighting, cables, audio etc. hang from the ceiling. This is to allow video shooting in a fully, 360o green screen space for a total immersive experience. It also helps reduce clutter when that sort of advanced configuration is not required.
More than just a video & photo production studio
When you rent out our studio, you also get access to the following:
The Hanging Lounge
This cozy and private space overlooks the video production studio. It allows those present to support the on-camera talent to watch what's going in the studio in real-time. It also provides them with a place to work or hold meetings.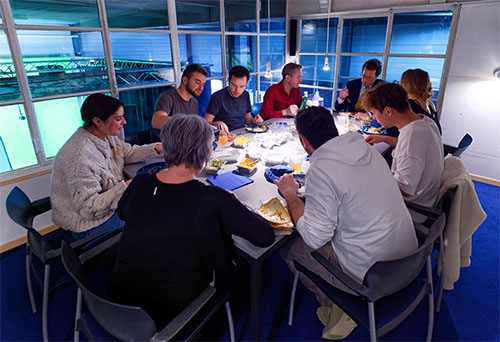 The Downstairs Lounge
This larger space near the video production studio entrance is perfect for talent to grab a coffee between shoots, and for those accompanying them to relax, have lunch or get work done while the talent is on air. The area is well lit and a perfect centralized location so that you can keep an eye on things and feel part of the action the whole time.

Both lounges have coffee machines, of course, and if you're in for a long shoot, why not get delicious food brought to you? We can organize catering, from top-tier stuff to kebabs and pizzas. If you have any particular requirements or needs, please let us know ahead of your visit so that we can accommodate.
The Make-up Room
This is where talent will go prior to being on air. We provide experienced and professional make-up artists to make sure everyone that goes on camera looks their best.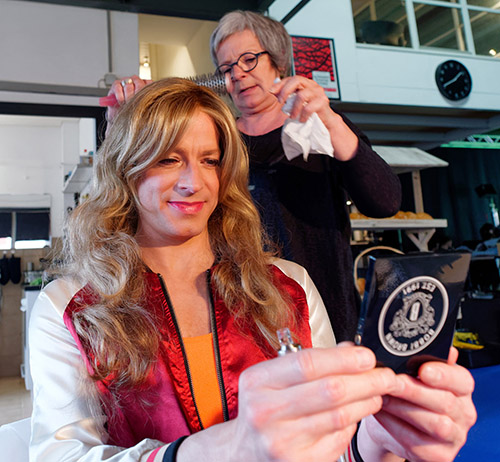 Q&A on Our Video & Photo Production Studio
Why shoot in a green screen studio?
When you create a video with a green screen backdrop, people and objects can be placed in front of your choice of background or setting in post-production. A professional green screen video production studio is also ideal if you have a project that calls for compositing, Hollywood-quality special effects. Combining live footage with animated characters or settings is also a snap to put together with the help of green screen technology.

The color green, or sometimes blue, is used because it can be isolated and removed in post-production without affecting the color of the subjects and objects filmed in front of the screen – just don't wear a green shirt! It is very important that the green screen is made of high-quality material with an even color throughout and pulled taught to eliminate any perceptible wrinkle. In the SmartCuts studio the walls are green, so wrinkles are clearly not an issue. It is also important to light the screen evenly and separately from the subject to avoid shadows. Our green-screen photo and video production studio is specifically designed to make sure all these considerations have literally been built into the structure as a whole.
Why at SmartCuts?
Smart Cuts is proud to offer Switzerland's only 360-degree green-screen video production studio. What does that even mean? Well, it means we can shoot just about any scene with extensive camera movements, and then create the entire set in post-production. We can have up to ten people in a panel discussion and make it look like they are anywhere in the world.

There is a dressing room abutting SmartCuts Creative's 360-degree green-screen photo and video production studio for changing and make-up. There is also a private conference room where you can follow what is happening in the studio and sip coffee while discussing the production with your team. A refrigerator, microwave, and coffee machine are also provided.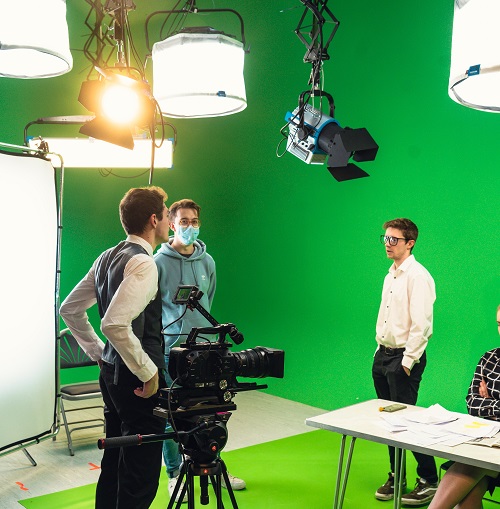 How does it work?
SmartCuts Creative knows how to plan and execute green-screen video productions to produce high-quality videos with the imperceptible placement of your subject(s) in the setting of your choice. To accomplish this goal, the production crew at SmartCuts has learned to plan and prepare. If we know the subject is going to be placed in front of a burning building, under a streetlight, or appear at a great height, then lighting and camera angles will be adjusted so that, in post-production, setting and subjects will lock precisely together to create the illusion that they were shot in the scene.

It is amazing how many mind-blowing special effects can be achieved at low cost by combining videos shot in front of a green-screen and copyright-free stock footage. Don't cross out any of your ideas for fear of excessive cost or complexity when reaching out to SmartCuts Creative. Partner with us and we'll have you walking on the moon in no time – just bring your space suit.
Say it Smart!
Stand out for all the right reasons.
We help you communicate in a clear, creative and comprehensive manner. Make your message memorable…