Video Testimonials – 6 ways to make videos your brand can benefit from
SmartCuts Creative has an experienced and talented crew at the ready to make high-quality video testimonials.
There are many ways to increase your brand awareness and online presence. Whether that is by blogging just like this, posting case studies or creating infographics. Regardless, video is one of the most powerful tools to ensure effective results. Various types of videos can help with brand awareness, but to really ensure there's customer trust in the company, video testimonials are the way to go, and we're going to explain why now.
Discover the importance of Video Testimonials
1. Introduction

2. What is a video testimonial?

3. The difference between Reviews and Testimonials.

4. Why are video testimonials great for marketing?

5. 6 key steps to create a professional video testimonial.

6. Video Exemplars.
What is a video testimonial?
Video testimonials are one of the most powerful forms of communication to use with prospective clients. But what are video testimonials? Video testimonials are videos in which your customers discuss the positive aspects of a service or product they got from you, how your services or products helped them solve a crucial problem. Testimonials are marketing tools, but more than that, "they provide social proof." (ClearVoice, 2020) That can make all the difference when someone is trying to decide whether to go with you or the competition.
Of course testimonial videos can also be about giving a voice to those who would otherwise go unheard, such as victims of poverty or some socioeconomic affliction in under-developed countries. That is another kind of video altogether, but one that does go by the same name.
Reach out to your satisfied clients for video testimonials. If you are not taking advantage of them, you are missing out on many significant benefits. No one is a better salesperson than a happy satisfied customer or client.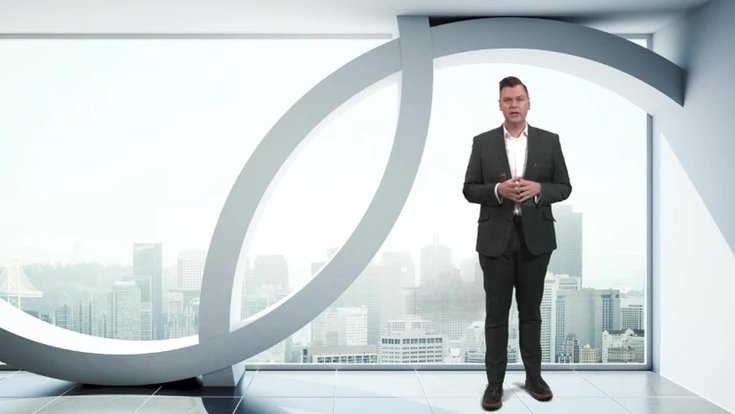 The Difference between Reviews and Testimonials
Before understanding why you might use testimonials, it's crucial to clarify the difference between reviews and testimonials in case there is any confusion with the distinction between the two concepts.
1. Reviews are created and collected without the company's involvement.

Whereas…
2. Testimonials are owned and managed by the business. In other words, they have chosen the exact customer or client reviews to be featured on their website or in advertisements for products or services.
You may be thinking that testimonials are purely positive responses to companies' products and services. Customers tend to look across both reviews and testimonials before buying from you or working in collaboration with you. But, testimonials may be favourable, as they reveal the company's connection with their target audience. (Strategic Factory, 2017)

With that being said, video testimonials are also ideal for marketing campaigns.
Why video testimonials for marketing campaigns?
Testimonials are effective because they come from people your potential new customers can identify with. People who were in a similar situation as those who are now looking to connect with you.

The leaders of the most successful communications agencies have known this for a long time. The most effective testimonial ads are those showing loyal users of your service testifying its virtues.
Maybe that's not enough of a motive for you to implement video testimonials into your marketing campaigns. If so, here's 3 more key reasons to start creating them:
1. Testimonials build trust and make your company seem more credible.

By this we mean that potential customers are more likely to appreciate a previous customer's experience – and how it was positive or how the company was helpful. For example, prospects may use testimonials before buying certain Amazon products.
2. Videos are everywhere and easy to digest.

For instance, Hubspot Blogs research has found that "66% of consumers have watched video content (i.e. product demos, reviews, FAQs, unboxings, etc.) to learn about a brand or product." Head to our other blog post, Here's how viewers can become customers through Video Ads, to find out more about how online video consumption is on the rise and how to capitalise on that.
3. Video testimonials are more personal.

The advantage of implementing video testimonials in marketing campaigns and companies' websites, is that there is the opportunity for videos to share personal stories. This brings us back to the idea of showing the connection between the company and clients or customers. On top of that, video testimonials really show your company cares about providing great customer service.
These are just a few reasons as to why video testimonials are great for marketing.
6 Steps away from creating a professional video testimonial
Hopefully we've solidified why you might want to start including video testimonials on your website, for example. But how do you actually make on? And not just any regular video, one that looks professional, well-made and thought-through.

When you pick loyal users to testify, avoid those who might give too polished of a performance. Viewers could think they are professional actors, which makes the testimonial less trustworthy. The more of an amateur video it appears to be in terms of the speech, the more credible the testimonial.
Here are 6 tips to follow when you plan to produce a video testimonial:
1. Use only high-quality video equipment.

In this way, viewers can believe in and trust your products and services, the better the video quality. With the collaboration of a creative agency like SmartCuts Creative, based in Lausanne and Geneva Switzerland, good equipment is a given.
2. Provide a script of questions, but keep the interview as natural as possible.

In providing a script, the customers taking part in the video testimonial can feel prepared and more at ease in front of the camera. Where questions are essential to give direction for the testimonial, let the client speak in a spontaneous way. For instance, this could mean letting them show their emotions when they reveal their experiences with you.
3. Avoid yes-no questions.

Following on from the script, it's better to ask open-minded questions in order to evoke emotions. That way, more comes out of the customer or client about the product/service.
4. Put emphasis on why your customer chose your product or service.

Ask them what their problem was and how your service helped them find a solution. Allow them to share their concrete story, their problem and the solution they got from you.
5. Establish the emotional bond between them and the product/service.

Video testimonials are most effective when they show the emotions felt by your customer before, during and after using your product or service.
6. Finally, keep it direct.

Especially with a testimonial video, where it could purely be a continuous interview-type shot with a client/customer, we want to keep the video short so that prospects get a quick feel for the company. Ideally it would be between 2 and 3 minutes. Make sure everything included in the video has a clear purpose, ensuring there is no repetition.

Be sure to follow these suggestions and your video testimonial production process and final result will be much more professional.
Exemplar Video Testimonials
The following 3 videos set the standard for a good video testimonial. Have a watch, and read the key take-aways as to why these video testimonials really stand out.
1. From the Ecole Hôtelière de Lausanne. Length: 1 minute 46 seconds.

Key Point: Clear and professional video set-up. The camera also doesn't move for the entirety of the video, allowing viewers to really focus on her videos, which in turn places emphasis on her testimonial.
2. From Zoom, Box Customer Testimonial. Length: 1 minute 34 seconds.

Key Point: Visually pleasing shots, making the video easy to follow. Around 30 seconds in, the customer already discusses the solutions that Zoom are offering, for instance, being able to discuss questions in meetings from a distance.
3. From Uipath. Length: 1 minute 35 seconds.

Key Point: The customer is direct and easy to follow. "UiPath is the software which helps…".
Final Thoughts: The Significance of Video Testimonials
What has been pointed out here is the importance of video testimonials for showing the relationship between customers and a company's service and products. Customer service quality is therefore seen at the forefront of what a company has to offer with the appearance of well-developed, trustworthy and credible video testimonials.
Need professional help from SmartCuts Creative?
You don't have to go through the creation process of video testimonials alone. SmartCuts Creative, based in Lausanne, Switzerland, can collaborate with you, to creat the types of video testimonials you want to include on your website.
If you would like to know more about how a video testimonial could help your organisation, do not hesitate to contact us. We would be happy to help you in any way. At SmartCuts Creative, we have over 10 years of experience with corporate video, live events and professional interviews.
Give us a call or reach out now: