Why Not Try a Live Event to take your Marketing to the Next Level
Don't worry, SmartCuts Creative can help you make live videos professionally and effectively.
An Instagram live? Ever heard of it? Lots of people use platforms like Instagram to target the audiences they want. From intimate musical moments to cooking events, revealing new mouth-watering recipes. An instagram live can cover all types of events and be easily accessible to all types of audiences. Think of live event video coverage in the same way.
A great example of a recurring live event is TEDxCambridge, a live speaking event in Boston. With the arrival of the pandemic, they were forced to create something unique and accessible. The pandemic has actually shown us how live events can be really useful and help us to reach a larger audience, from anywhere in the world. But what if you're not in Boston, and instead you find yourself amidst the grand mountains and beautiful Lac Léman around Lausanne and Geneva. In that case, SmartCuts is here for you.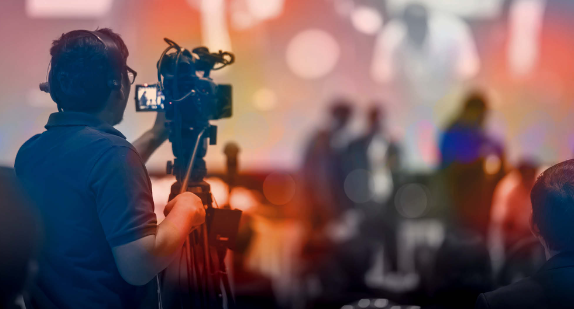 With clear advantages to live events, the year 2020 was stressful for performers and people who put on live events, as it was new for many people. A large branch of virtual events have been on the rise since the beginning of the pandemic:
Conferences
Stage shows
Concerts
Operas
Seminars
With varying types of live events, your possibilities are endless and exciting.
Live Events for your Marketing Campaigns
1. What is Live Event Coverage?
2. Planning your Live Event Coverage
3. How to have a Successful Live Event?
4. How to use Social Media to promote your event and brand?
5. What are the benefits of Live Event Coverage?
6. Work with SmartCuts
7. Final Thoughts
What is Live Event Coverage?
One definition is that it's "a broadcast of an event on a radio or television program while the event is happening." Depending on the live event, it could be streamed over the internet too. For instance, the network will have live coverage of a sports game. A more specific example is that recently the streaming service, Peacock, made the recent 74th Emmy Awards (2022) available to audiences as a live event. Everyone rejoice!
Planning your Live Event
Here are some key points to consider when organising your live-streamed event:

1. Have a time-stamped organised table so you know what you're showing and when. For example, you can use the application, 3 2 1 timer.

2. Ask key questions like you would for organising any other event.

3. Choose high-end equipment – or let SmartCuts handle that.

4. Do a dress rehearsal – make sure everything works in terms of equipment, actors, etc.

5. In mentioning dress rehearsals, test your audio and internet connection. This step is crucial for any events or shows that are going to be live-streamed.
"Have a plan for audience engagement. Know when and how you plan to incorporate audience feedback and Q&As and then clearly communicate that information to your attendees." (Juliana Nicholson, Sr. Marketing Manager at HubSpot.)
So those are key elements to think about in the planning stages. But what actually makes a live event successful? Take a look at this SmartCuts live concert at L'Institut Le Rosey.
How to have a successful live-streamed event?
Consider these five points to have a more effective and triumphant live event.
1) Keep the live-stream of the event clean and simple. Sometimes, they can be too much and overwhelming. We don't want to overburden viewers, we want to entice them.

2) Take pictures of the event whilst it happens. You can then reuse content for your website, social media posts and blogs, just to name a few examples.

3) Make sure to interact with your audience throughout: In 2019, "39% of event professionals agree that 'engaging attendees' is the most crucial element of a live event." (EventMB, 2019)
– I'm reiterating this point from above as it's such a pivotal point.

4) Recap the key points from your event in the concluding minutes of the live-stream.

5) What about after your live stream? Ensure to follow up with your attendees after your live stream has ended. Thank them for their time, give them a head's up about your next event. Just try to get them to engage with more of your content as a follow-up.
How to use Social Media to promote your Event and Brand?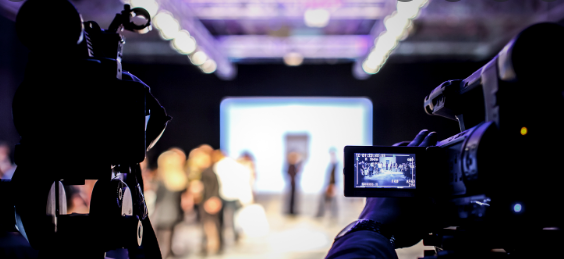 Implement more of these techniques and you'll see more engagement with your events, your products & services, your brand and your company.

1) Use hashtags on social media. Hashtags create associations, which in turn helps to reach their target audience and to help members filter information. Essentially, post about your event (in the pre, mid and post stages of the event) to increase attraction.

2) Post advertisements across different social media platforms (LinkedIn, Instagram, Facebook, Twitter). Target these posts to your ideal market.

3) Take note from Social Media Analytics.
What are the Benefits of Live Event Coverage?
It's great listing how to create an effective live event, but what makes them worthwhile? The two key benefits:
1) It's fairly low-cost. Not only is it relatively cheap, you can also reuse all of the content for your brand.

2) Accessible to all types of audiences. As live-streams can be watched on so many devices, and most people have at least one device, the world is your oyster.
When You Work with SmartCuts – SmartCuts Creative can help you run your next live-streamed event
It can become stressful organising live events. So, why don't you hire an experienced creative agency? SmartCuts Creative, based around Lausanne and Geneva Switzerland, has plenty of experience when it comes to covering live events.
A recent example is our collaboration with Mazda, involving a live event to unveil their brand new car. Taking place in Cortaillod, near Neuchâtel, the SmartCuts team was able to deliver a live event Mazda was satisfied with.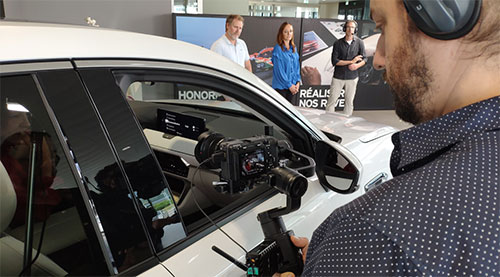 Planning and perfecting during the day, the live event took place later in the afternoon into the evening.
As you can see from the image above, having the right background and lighting was essential. What's more, ensuring presenters knew the program in-and-out, as well as making sure they felt confident enough on camera was a must.
Final Thoughts: Live Event Coverage
Live event coverage is a crucial way for your brand to be seen and engaged with by new customers and clients. More specifically, your refined target market. Branch out by interacting with viewers during your live events. Most importantly, ensure to practice, practice, practice! No one can be too prepared. The worst thing you want to happen is someone not knowing what is going on during a live-stream. You want your team to be well-rehearsed, whether they are on-screen or behind the scenes. SmartCuts Creative will ensure everything happening off-camera goes smoothly. Just focus your time on presenting during your event.
Get in Touch
SmartCuts Creative provides a cutting-edge creative communication service: original concepts; clear, creative and concise content delivered competently. In other words, we help you get your message across through the following tools and services:
SmartCuts has 10+ years of experience, 100+ satisfied customers and 1,000+ successful productions.
We help you Say it Smart. Let's talk!
To learn more about Parker Walbeck, feel free to visit his YouTube page.
Give us a call or reach out now: